River Cleanup wishes you a 'Happy plastic birthday'!
Flash back to March this year, when we launched the contest for charities to boost their fundraising. We called on Belgian charities to participate to the contest. The price? A 7-day promo campaign on more than 1.500 advertising screens operated by JCDecaux. This summer, keep an eye on the Scan for Change posters in your streets.
Congratulations River Cleanup, national winner of Scan for Change
There's nothing more fun than celebrating a birthday. And that was not lost on River Cleanup when they created their fundraising campaign for Scan for Change. The campaign 'Happy plastic birthday' encourages people to donate on their birthday. By doing so, they contribute towards a cleaner river.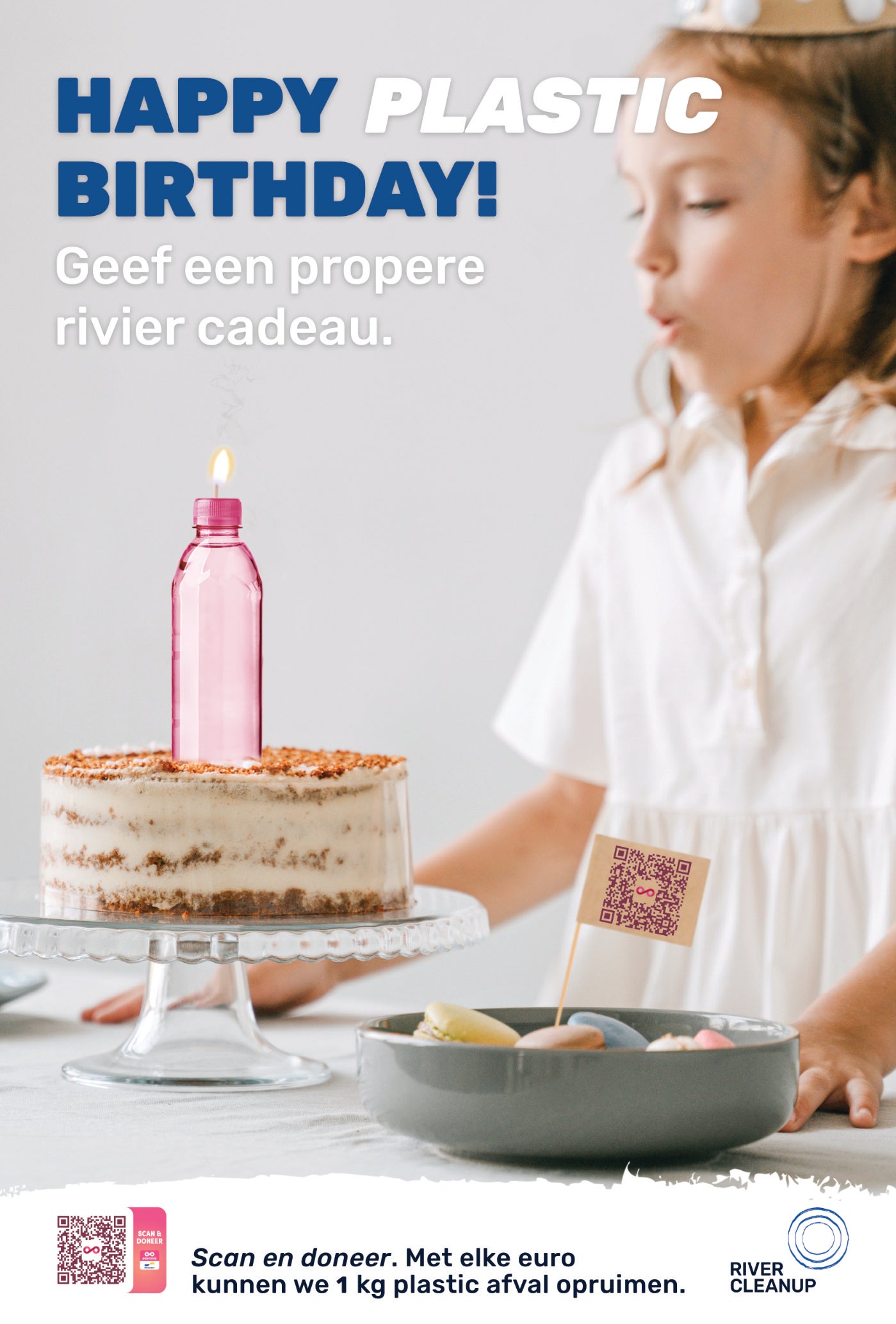 River Cleanup is on a global mission to clean rivers. They rely on more than 200.000 volunteers – warriors as they call themselves – to clean up rivers in Belgium and abroad. Together they generate a huge environmental impact.
The 3 foundations of River Cleanup are 'Clean', 'Educate' and 'Transform'.
Clean
A team of volunteers are working very hard to clean up rivers in Belgium. Events are being organised to raise awareness and inspire more people to help.

Educate
Teach them young. In cooperation with schools, they inform youngsters about the climate impact of single-use plastics and how they can start the change.

Transform
By partnering with companies, researchers and governments, they aim to decrease the production of single-use plastics.
Thomas de Groote, founder of River Cleanup: "Every year, 11 billion kilograms of plastic pollution ends up in the ocean. From which a large part will flow into our oceans via rivers. Our goal is to remove the plastic before it ever arrives in our oceans. Thanks to the support of volunteers, partners and donors we can make this happen!"
"With our 'Happy plastic birthday'-campaign we encourage people to donate when they have something to celebrate, like a birthday.", Thomas continues. "It's not only a unique plastic-free gift for themselves or for the person celebrating his or her birthday, but also for our planet."
A cleaner river as birthday gift
The 'Happy plastic birthday'-campaign will help raise awareness and funds. By donating €1,- the River Cleanup warriors can remove 1kg of garbage from Belgian rivers.
The jury selected the entry from River Cleanup based on the creative and powerful campaign. They beautifully incorporated the Payconiq QR code in their artwork. Making it super easy for people to scan & donate via the Payconiq by Bancontact app or another payment app enabling Payconiq payments.
During the 7-day promo campaign starting from the 18th July, their birthday wish posters will be visible on more than 1.500 screens located all over Belgium. Moreover, River Cleanup invites you to share your selfie with the poster on your Facebook or Instagram page, tag @rivercleanup, mention #happyplasticbirthday and tag the person(s) you want to go on a weekend with. More information can be found here. The winner of the contest will be announced by River Cleanup at the end of their campaign.
Donate via the Payconiq by Bancontact app
Cherry on the cake; during the duration of the campaign, people can donate directly to one of the three winning charities via the Payconiq by Bancontact app. Navigate to 'sServices' in the app. Then, click on 'Donations'.
The winning charity for Wallonia will be announced, as soon as their 7-day promo campaign is launched. The winning charity for Flanders is TWERK. Discover their 'Scan Sven'-campaign here.
Keep an eye on our news site and the posters in your streets and discover all Scan for Change campaigns.